The hovercraft world is joining forces to assist Bob Windt, whose Cordova, Illinois USA home of 32 years was destroyed in a tragic fire on January 13. Fortunately, Mr. Windt was not injured; he was teaching an after-school program at the time his life's work went up in flames.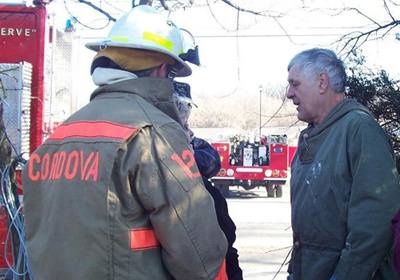 Bob Windt (right) learns from the Cordova Fire Protection
District that everything he owns has been destroyed.
Mr. Windt lost everything in the fire, including his workshop and three hovercraft, as well as a new generation wing-in-ground-effect craft (WIG) awaiting its maiden flight on Saturday. A man who has dedicated his life to introducing students to hovercraft is now left with little but memories. The only salvageable mementos from his property were two cabinets containing the scorched, waterlogged photo collections of students he has mentored and taught to build hovercraft. "He took these kids and turned them into productive people," said Cassie Steffen of Cordova.
Sadly, Mr. Windt's property and possessions were not insured. A man who has given so much to others now must rely on others.
It has long been said that hovercrafters worldwide are one big family. As any family would do, the hovercraft world is joining forces to help one of their own. On the morning after the fire, more than 100 local students whose lives were touched by Mr. Windt arrived to help clean up the debris, and aid is pouring in from hovercrafters throughout the United States.
In recognition of his contributions to hovercraft education and his positive influence on the lives of so many students, we encourage DiscoverHover members to help this remarkable man rebuild his own life. You may send monetary donations to the relief fund established his name:
To donate via PayPal, go to http://www.hoverclubofamerica.org/clickandgive.html
On behalf of everyone at DiscoverHover and the World Hovercraft Organization, we appreciate your contributions to Mr. Windt, who has played such a valuable role in making the DiscoverHover program a reality.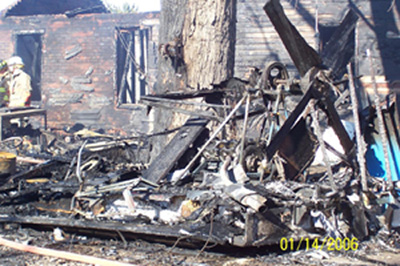 The charred remains of a hovercraft pulled from Mr. Windt's workshop.
Read the news coverage:
Fire destroys "Mr. Cordova's" home
Community helps "Mr. Cordova" pick up the pieces
Help pours in from across the country for "Mr. Cordova"